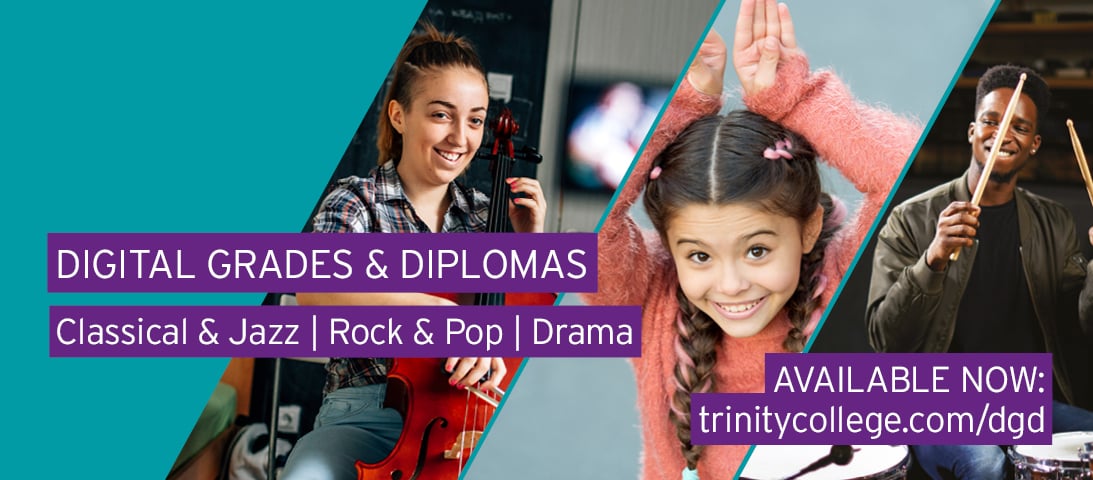 Achieve and Thrive with Trinity Drama
At Trinity we have always believed that preparing for our exams give students and learners skills beyond those tested in the exam room. 21st century skills such as resilience, metacognition, teamwork, creative thinking and problem solving are all embedded into our drama syllabuses alongside performance and dramatic skills, complementing and developing each other. These transferrable life skills are increasingly valued by employers and higher education institutions, as well as being skills that will benefit any learner at any point in their lives. But we know that external validation and recognition, beyond the intrinsic learning outcomes of our syllabuses, is also very important for learners – and never more so than now, with the increased disruption to education and the risks this presents for national exams.
So – did you know that all of our higher (grades 6-8) grade solo and pair exams carry UCAS points? Whatever syllabus your learners are taking, there is the opportunity to gain UCAS points, helping to boost university applications and give learners something additional to talk about on personal statements or applications. A Distinction at Grade 8 gives a learner 30 UCAS points – just 2 points below a C grade at a full A Level, so certainly not something to take lightly. This reflects the rigour, dedication and skill involved to gain a higher drama grade, and is something that all students of our exams should be aware of.
It remains unclear what the exam situation will be for students in England in the summer of 2021, with Scotland and Wales having already cancelled GCSEs and A Levels. We all continue to work in challenging circumstances, and remain in awe of the teachers continuing to deliver high quality teaching – whether you are back to face to face teaching or if you are still online. We are very keen that all students continue to be able to achieve and progress whatever their personal circumstances, and obtaining a higher grade drama exam, with the corresponding UCAS points, could be something that helps to take away some anxiety around summer exams especially if they can get these points under their belt before the usual exam season in the late spring begins.
Which brings us nicely to our new, year-round opportunity, allowing learners to gain their drama exam, and UCAS points, when it most suits them. Our new Digital Grades cover all our solo drama syllabuses except for Communication Skills (keep eyes peeled for exciting developments as well as for pairs and groups shortly). Students can video and upload their performance at any point in the year, receiving marks and feedback from an examiner as they would in a face-to-face exam, and their full, regulated qualification. The UCAS points on offer for our Digital Grades are exactly the same as those for our face-to-face exams, so students should feel confident that whatever option they choose they will be recognised fully for this.
We hope that Digital Grades give you and your students the opportunity to explore dramatic learning in a new, digital format – recognising that much drama teaching has changed to this medium over the past few months, while maintaining the same academic and pedagogic rigour that all Trinity's exams are renowned for worldwide. We also hope that being able to gain additional UCAS points helps to encourage and support those young learners who have already faced so much disruption to their studies this year.
For more information on our drama syllabuses, or for a discussion about how these may work for you please contact sue.clarke@trinitycollege.co.uk
Related posts

BY: Natalie Christopher

BY: Annabel Thomas

BY: Annabel Thomas